Service/Recreational
The District
Project Details
Location
Calgary, Alberta
Application
Glass Wall Cladding
Industry
Service / Recreational
Type of Glass
Tinted Mirror,Dichroic
The Story
Washroom facilities in office towers are often boring, in shades of white and stainless steel. When designing the washrooms for The District, it was clear the aesthetic needed to match the style and attitude of the rest of the community, which includes an animated, ground-plane network of interdependent uses for insight and outside spaces that feel comfortable all year round. Using pops of color and reflective surfaces, the lively personality of The District continues through the washrooms, creating conversation and excitement around something we all do.
Dichroic mirrors in a variety of shades from our Cool Hues and Hot Flash palettes create washrooms spaces as unique as The District itself. The mirror provides an eye-popping and unexpected experience where visitors least expect it, and the next destination within the community where people will want to spend more time.
Our Team
Architect
Kasian Architecture
Contractor
CANA Construction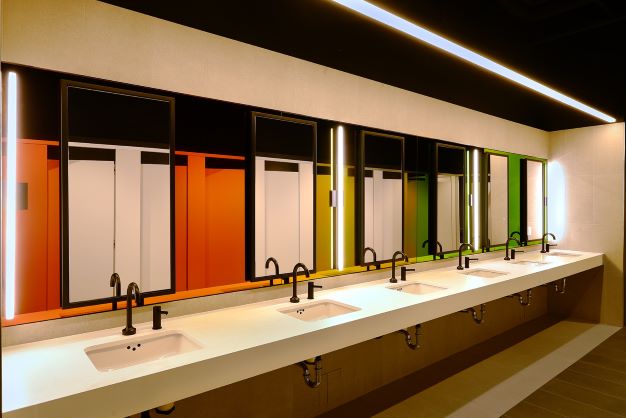 Love what you see?
Explore possibilities with
Have a vision? — Not sure how to achieve it?
Let us help you bring that vision to life.