The Beauty of Reflectives
Mirror, mirror, on the wall
For centuries, mirrored and reflective surfaces have been used to add intrigue and excitement to interior spaces and as safety features in exterior spaces. From lighthouses in ancient Alexandria to the Hall of Mirrors in the Palace of Versailles (which housed more than 350 mirrors!), reflective surfaces play an important role in architecture and interior design.
According to ArchDaily, one of the most common uses of mirrors (other than marveling at our glorious selves in the bathroom) is to open up a space. A large mirror filling up a wall can make a small room feel larger than it is, and a mirror shaped like a window can create an illusion of openness by reflecting light into a space. We can also use mirrors to create drama in an area as an alternative to artwork.
Mirrors continue to be extremely popular in design, being used everywhere, from retail and hospitality spaces to commercial offices and medical spaces. And mirrors don't need to be the typical silver ones we use in our closets or bathrooms. They can come in various finishes, including tinted color, antique or frosted finishes, textured mirrors, and even color-changing mirrors.
Tinted mirrors
Tinted mirrors are available in various colors and can be customized to match or complement your brand colors or existing color palette in your space. Using tinted mirrors into a space can act as an accent or visual texture that creates interest and feels more stimulating. Additionally, tinted mirrors can create a focal point in a room or add a bit of drama to a space.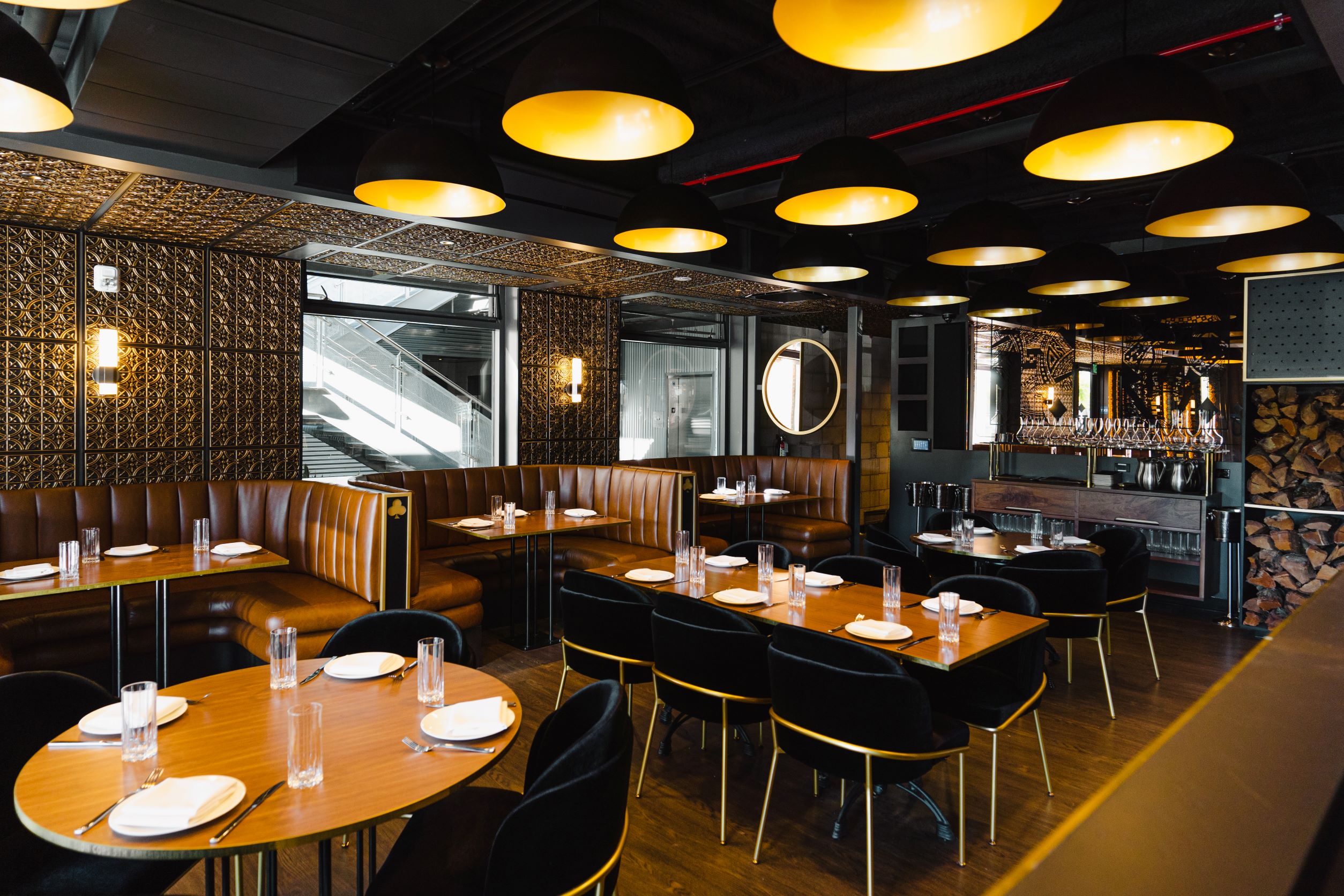 Tinted copper mirror within a circular frame, complimenting the ambiance of this elegant restaurant. Photography by Kimberly Motos.
Dichroic mirrors
Do you remember the late 90s, when one of the fashion trends was dresses that looked like a different color depending on the light? Dichroic mirrors are a bit like that but not likely to go out of style any time soon. Dichroic mirrors are similar to tinted mirrors, but the color of the mirror changes as you change the angle at which you view it. This feature can give a dynamic appearance to a static wall, are available in warm or cool tones, and add visual interest and appeal to a space.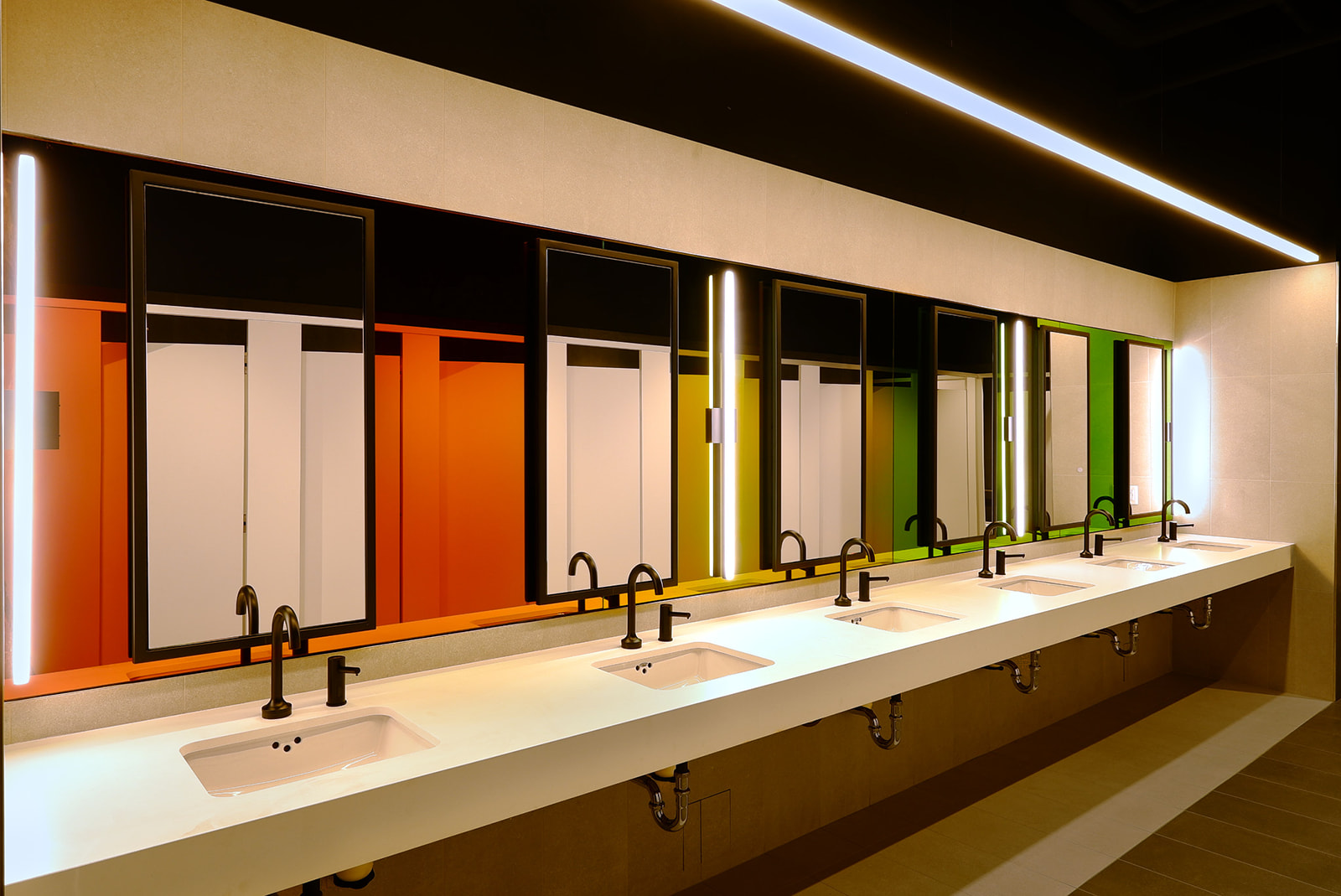 Goldray's Hot Flash Dichroic Mirror, surrounding individual washroom mirrors. Every space deserves to be beautiful! Photography by Ron Eliovitz.
Antique mirrors
Antique mirrors are one of the bolder and more fun uses of mirrors. They can provide an accent, transition, or feature element to a space while achieving a range of unique aesthetics, including rich and classical, to eclectic and vintage.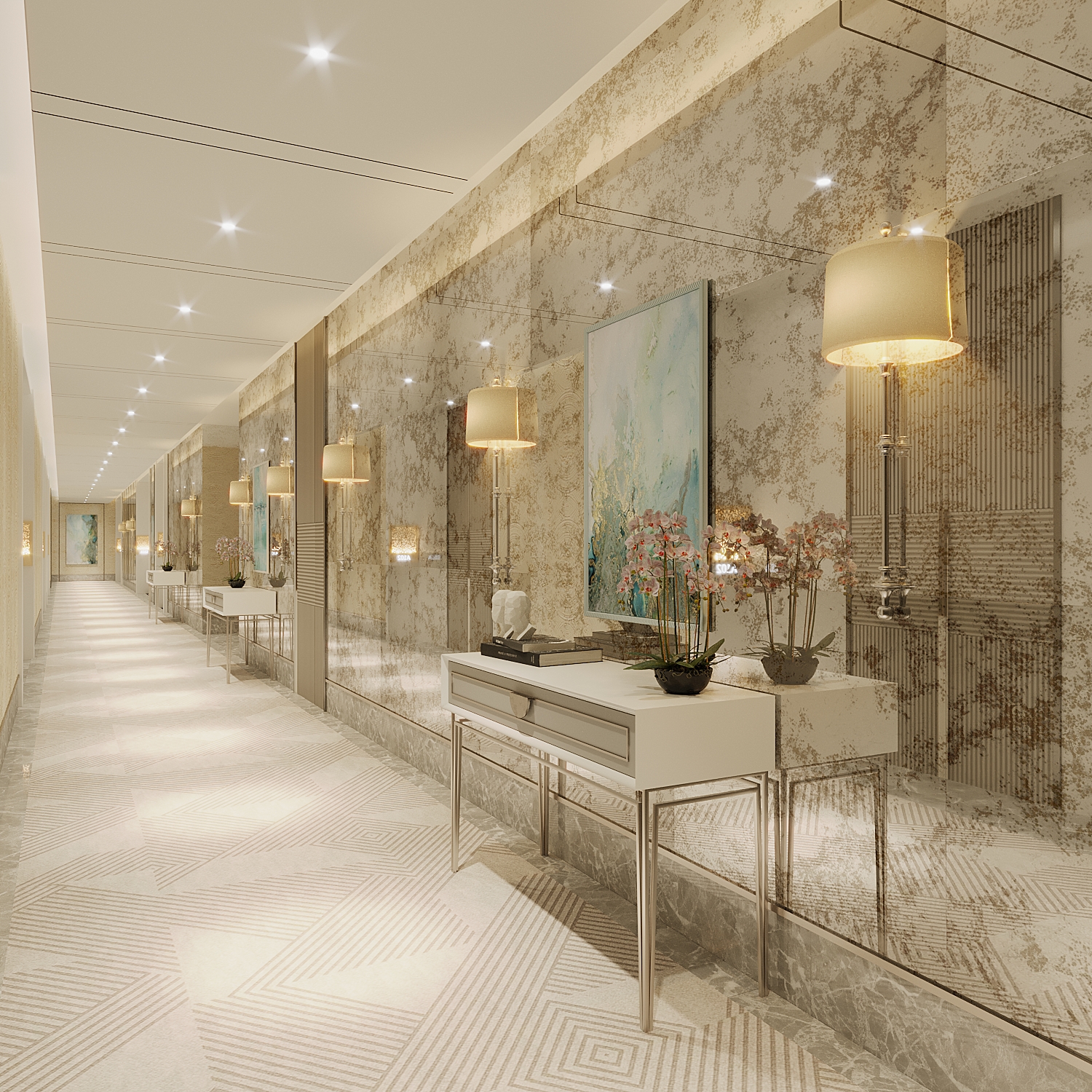 Antique Mirror wall cladding opens up this hallway, while adding elegance and light to the space.
Frosted and textured mirrors
An alternative to traditional wall cladding, frosted mirrors can add a lot of brightness to a space without providing an actual reflection (so you won't be able to see if there is spinach caught in your teeth).
Textured mirrors are made by adding a mirror coating to the back of textured glass. This technique can create visual and tactile interest in a space while adding reflective benefits and a bit of privacy. Textured mirrors can also be paired with a tinted or dichroic mirror to customize the look even more.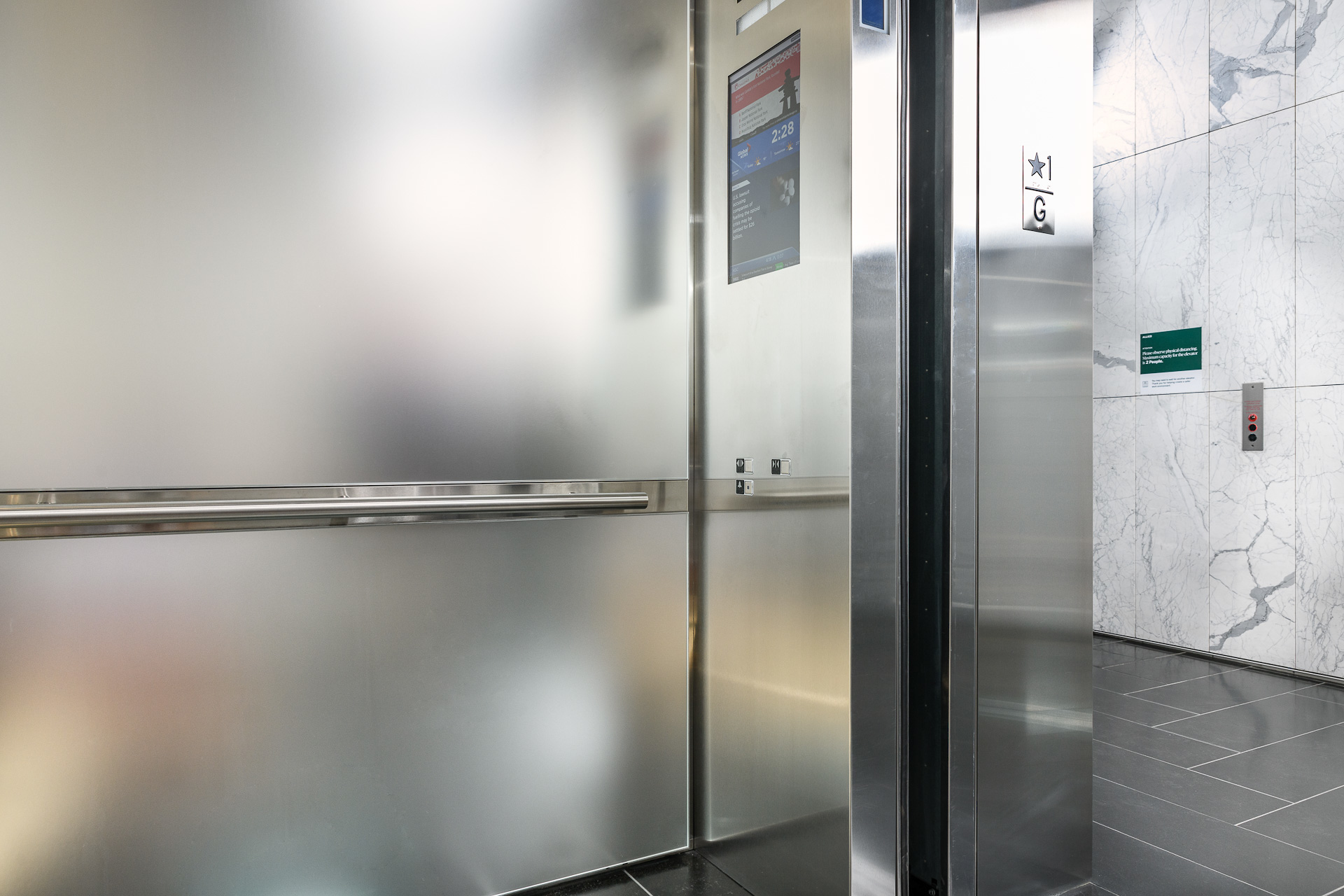 Frosted Mirror: bringing in the light, and keeping out reflection.
Safety first
When choosing to use mirrors in a space, it's important to remember that mirrors can't be tempered because of the silver coating on the back of them. As a result, standard mirrors are not a great choice for high-traffic areas such as elevators, entryways, or outdoor spaces. For those spaces, mirrors would either need to be laminated to another piece of glass or aluminum honeycomb panels, or have a safety backing added to it. Don't fret! The look and finishes of the mirror won't be affected by these safety features.
Like the mirrors in your home, the mirrors used in architectural design settings are durable and easy to clean and can provide visual interest, safety, and an element of brightness.
Whether you're looking to update your office space or create a welcoming hospitality venue, mirrors can bring warmth, light, and a unique twist to your environment. Choose from a variety of tinted, dichroic, or antique finishes, or combine several to really make a statement…just remember that you don't need to go overboard like French king Louis XIV…unless that's the look you're going for!
Cathie Saroka Hands Reins Over to Michael Saroka