Corporate
High-Tech with "welcome" appeal
Project Details
Application
Glass Marker Boards,Glass Wall Cladding,Glass Partitions and Doors
Type of Glass
Graphics,Magnetic & Projectable,Solid Color+
Overview
When Cannon Design Chicago relocated their office to Michigan Plaza‐ two adjacent mixed‐use office towers in Chicago's Central Business District, excitement was in the air. The vision for the project was to develop a high‐performance office space that reinforced Cannon's design culture and enabled employee collaboration.
As part of this large-scale project, Goldray Glass worked alongside Cannon Design to develop a custom decorative glass elevator lobby and projectable glass wall to complete the office entryway.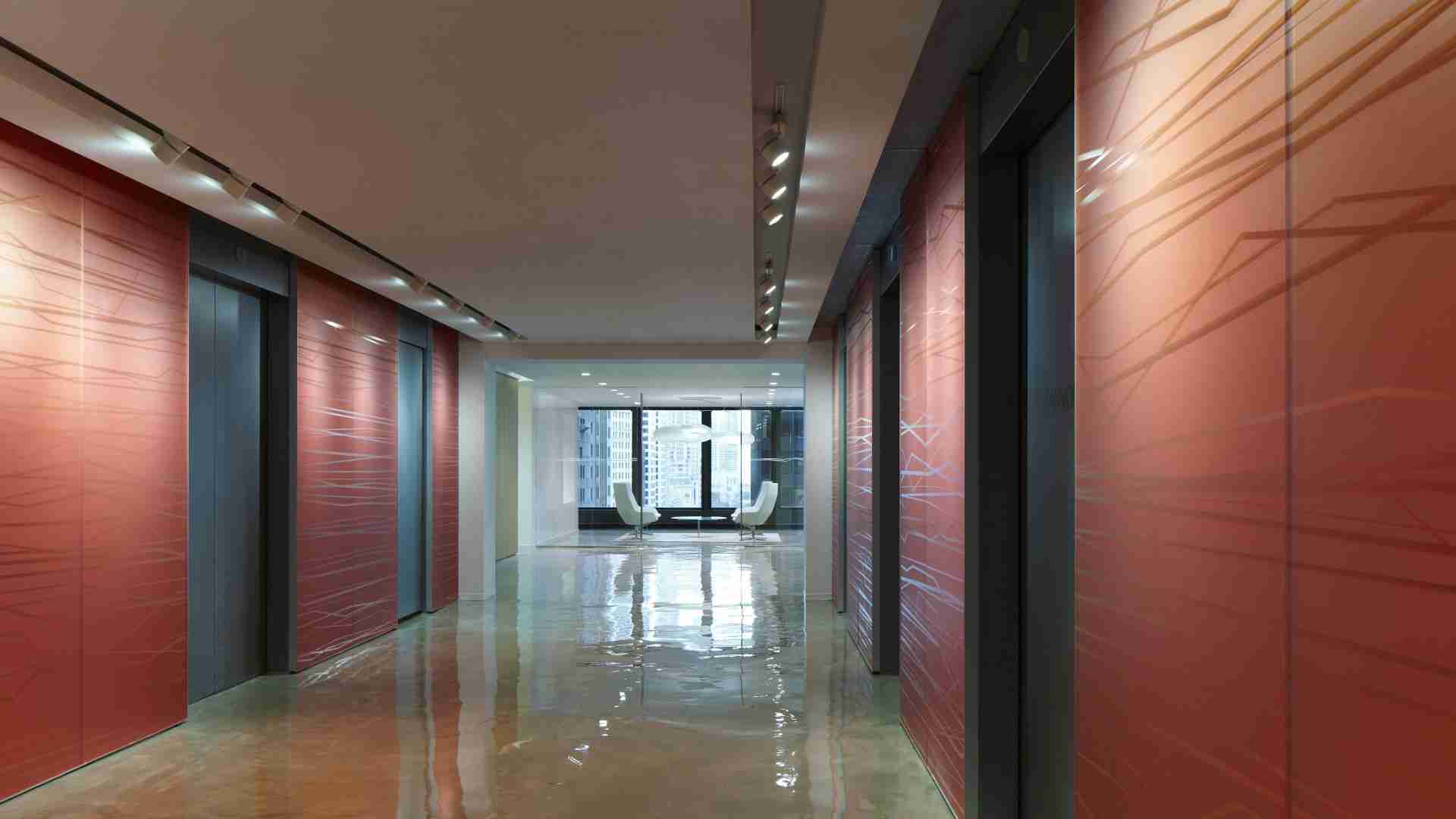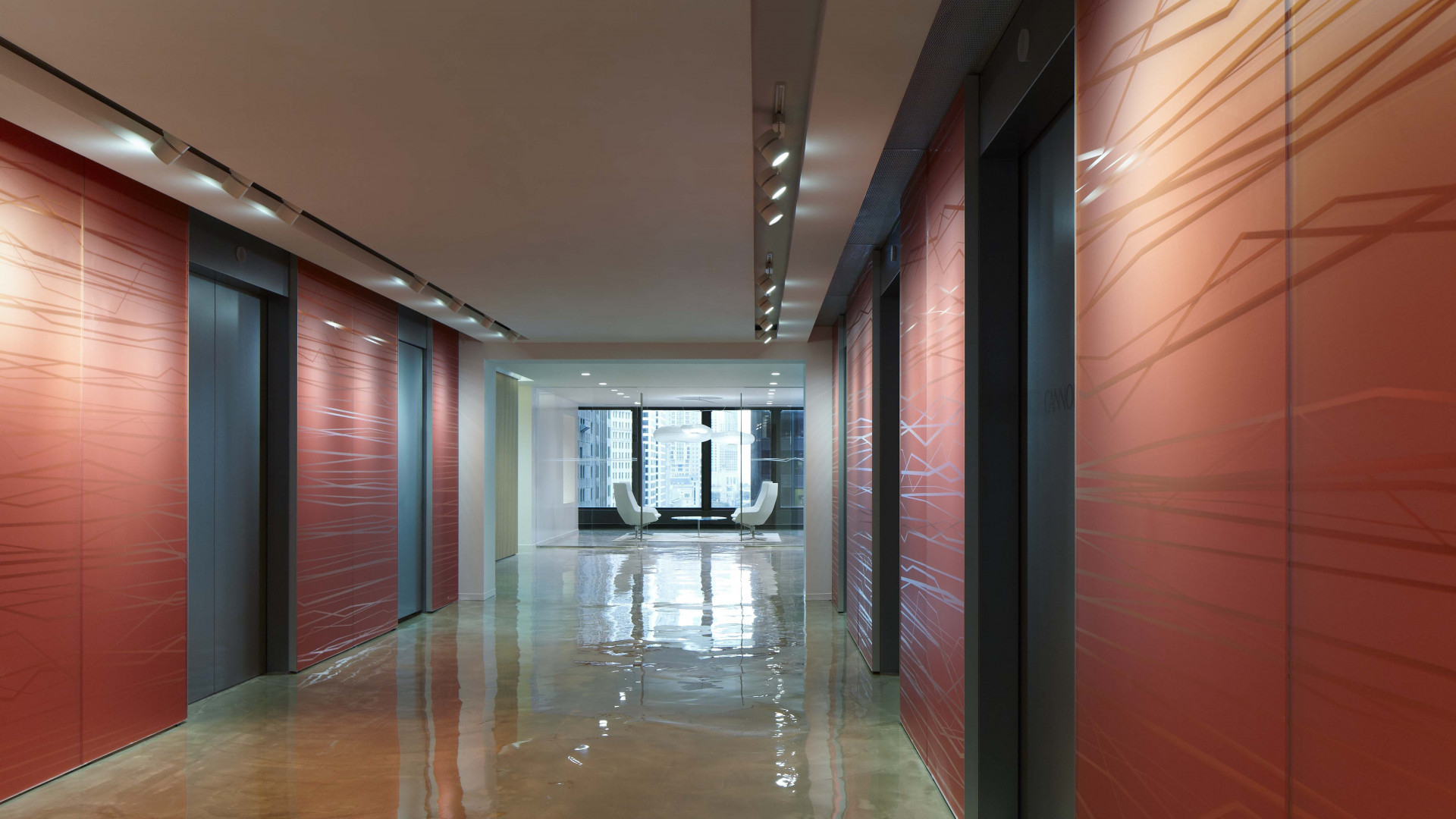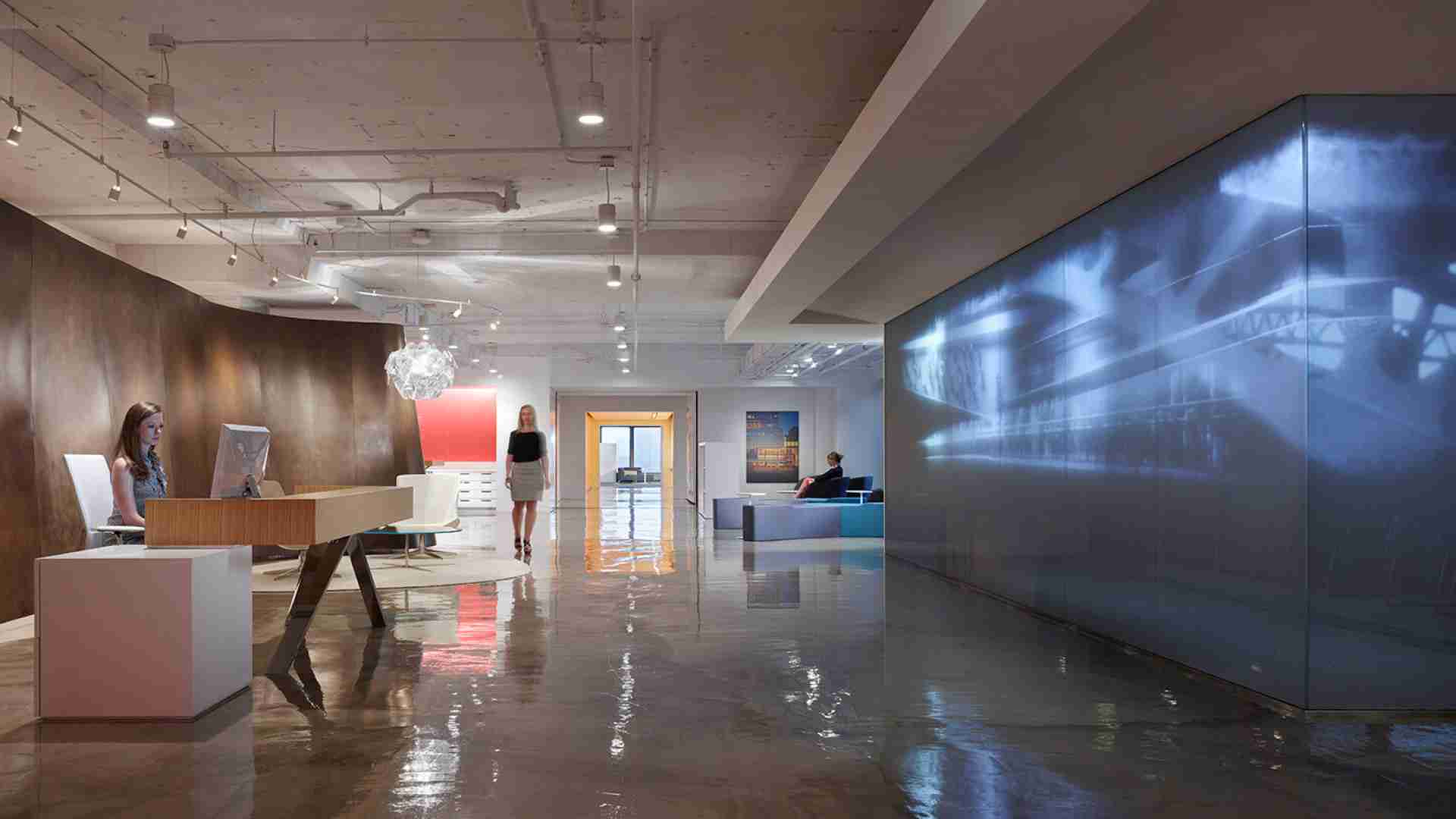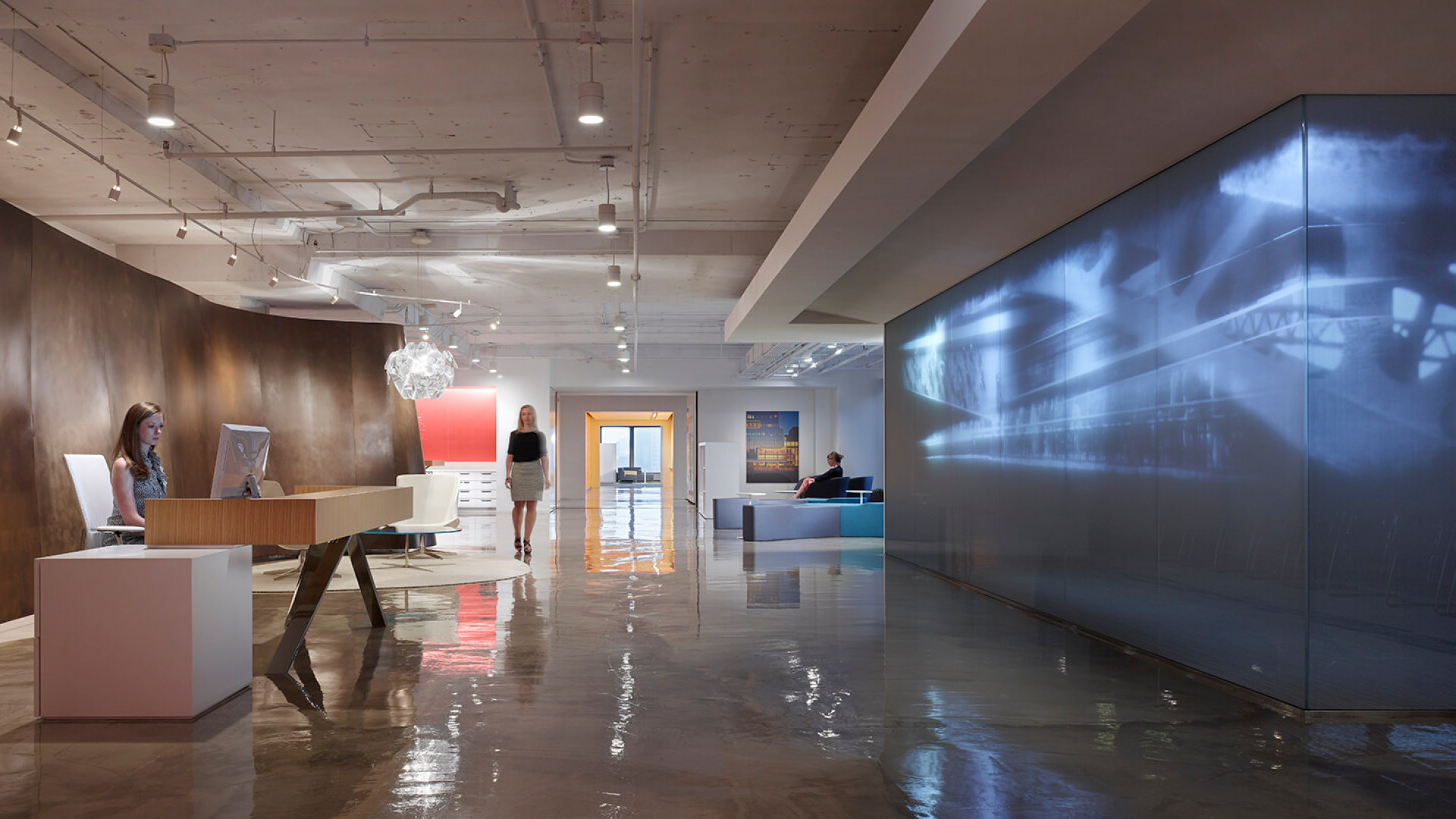 Cannon designers worked with Goldray to create the custom decorative glass for their elevator lobby. The design included both a projection glass wall and unique decorative glass wall panels for the elevator surrounds. To achieve the desired cloud-like look on the projection glass, we applied a ceramic frit in a gradient pattern. The bottom portion of the wall is transparent clear glass, which transitions to opaque at the top as the density of the gradient pattern intensifies. This two-sided glass wall is successful in both form and function, offering a projection glass surface on one side and a writable glass surface on the other.
Glass In Action
To make the process slightly more challenging, Cannon's team was comprised of several designers with varying creative concepts to incorporate into the design. The overarching theme to all of the input was something atypical, which resulted in a custom decorative glass elevator lobby that was both orange and metallic-looking. A multitude of processes was required to create this vision, starting with a colored interlayer laminated between two panels of glass. The inboard lite has a silvered coating that causes a reflection of the colored interlayer, which is then diffused with a ceramic frit design on the first surface of the glass. The finished glass wall panels are truly stunning, and create a welcoming environment for visitors and employees.
The updates to the Cannon Design Chicago office, which also incorporated a dynamic workplace strategy, served as a prototype for their multiple other locations around the world. The solution incorporated an open-concept environment and enhanced workspace flexibility with the introduction of over 20 alternative workplace settings. The approximately 200 office employees are now able to occupy a single, contiguous 60,000 square foot floor that bridges between two buildings. This space represents a 20% reduction from the firm's previous 72,000 ft2 footprint while allowing for an increase in collaborative workspace.
Our Team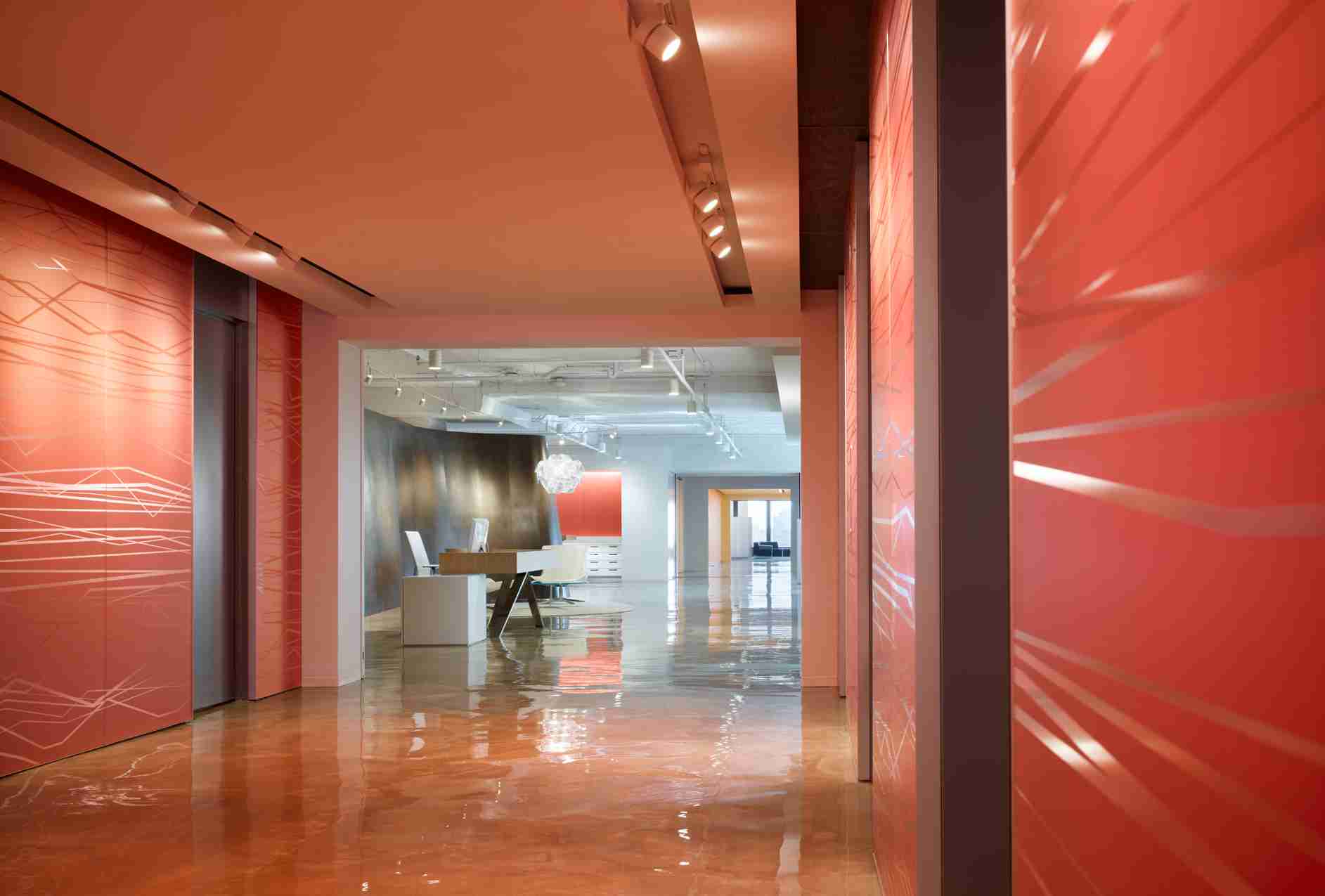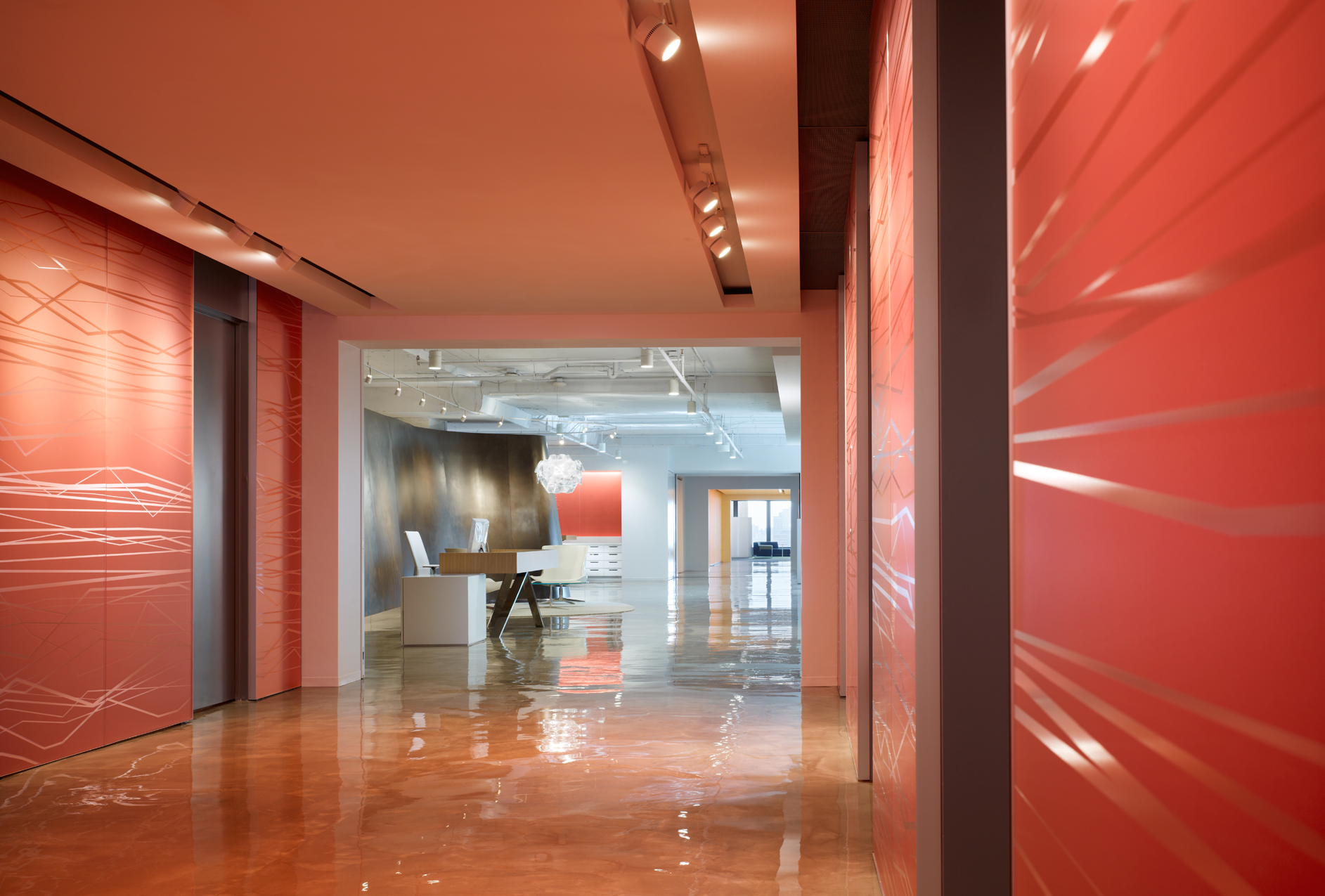 Sales Rep
Specified Components Inc. Texas
Have a vision? — Not sure how to achieve it?
Let us help you bring that vision to life.