Corporate
Enhance communication & collaboration
Project Details
Application
Glass Railings,Glass Wall Cladding,Vision Glass
Type of Glass
Graphics,Solid Color+,Printed
Overview
Creating an inviting atmosphere that both engages employees and encourages team member collaboration is a common objective when designing a new office space. This was the case when building Zurich Insurance Group's brand new North American headquarters in Schaumburg, Illinois, a suburb located just 40 minutes northwest of Chicago.
The intent for the new design was two-fold; to enhance employee communication and collaboration, while ensuring the design would stand the test of time. Led by the developer, Clayco, the building was designed by Chicago-based architecture firm Goettsch Partners, working in collaboration with CannonDesign, who handled interior design and workplace strategy. To incorporate employee's ideas into the design, Goettsch Partners and CannonDesign worked collaboratively with Zurich employee's from day one, crowd-sourcing ideas and gathering feedback that would be incorporated throughout.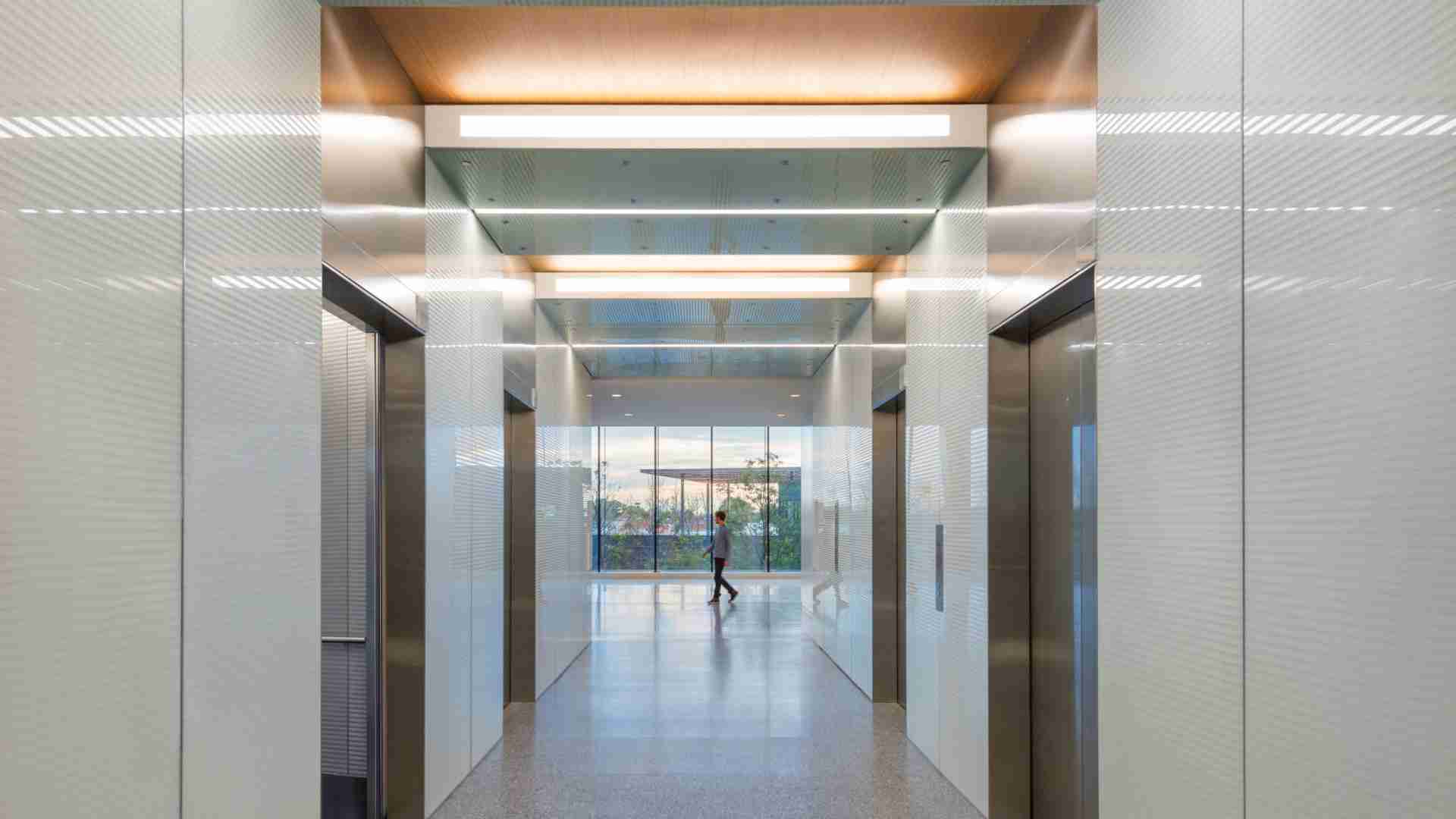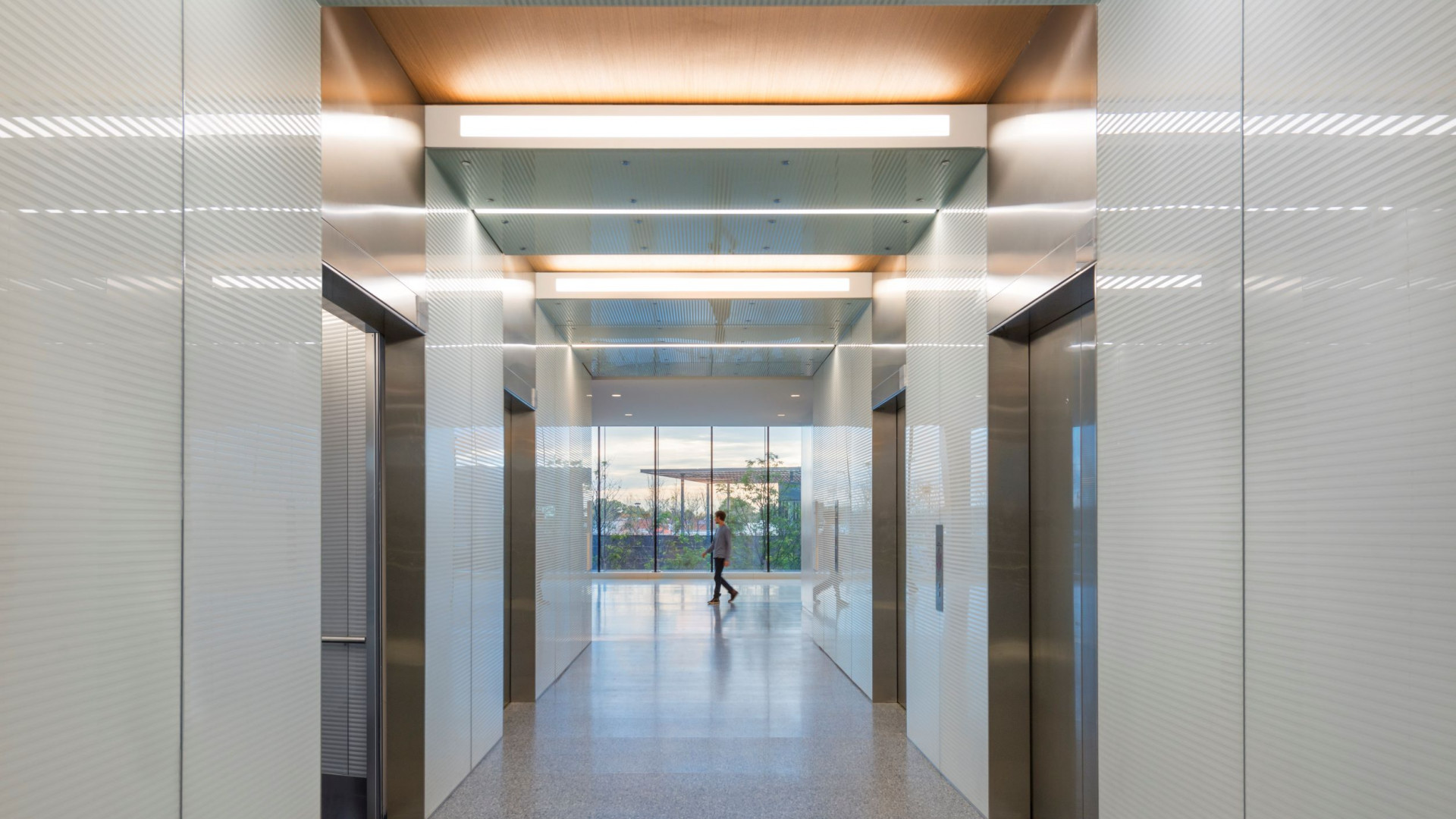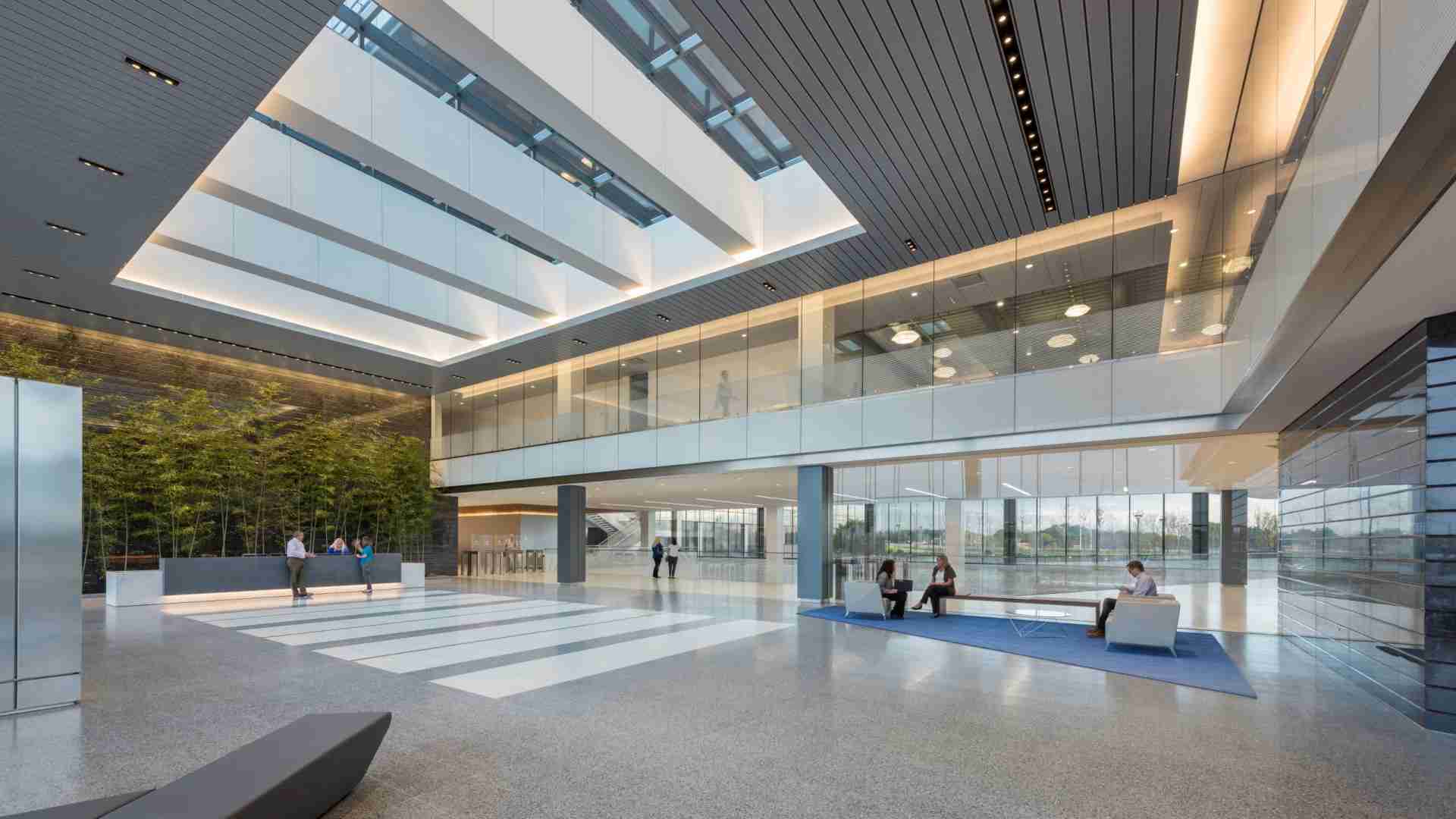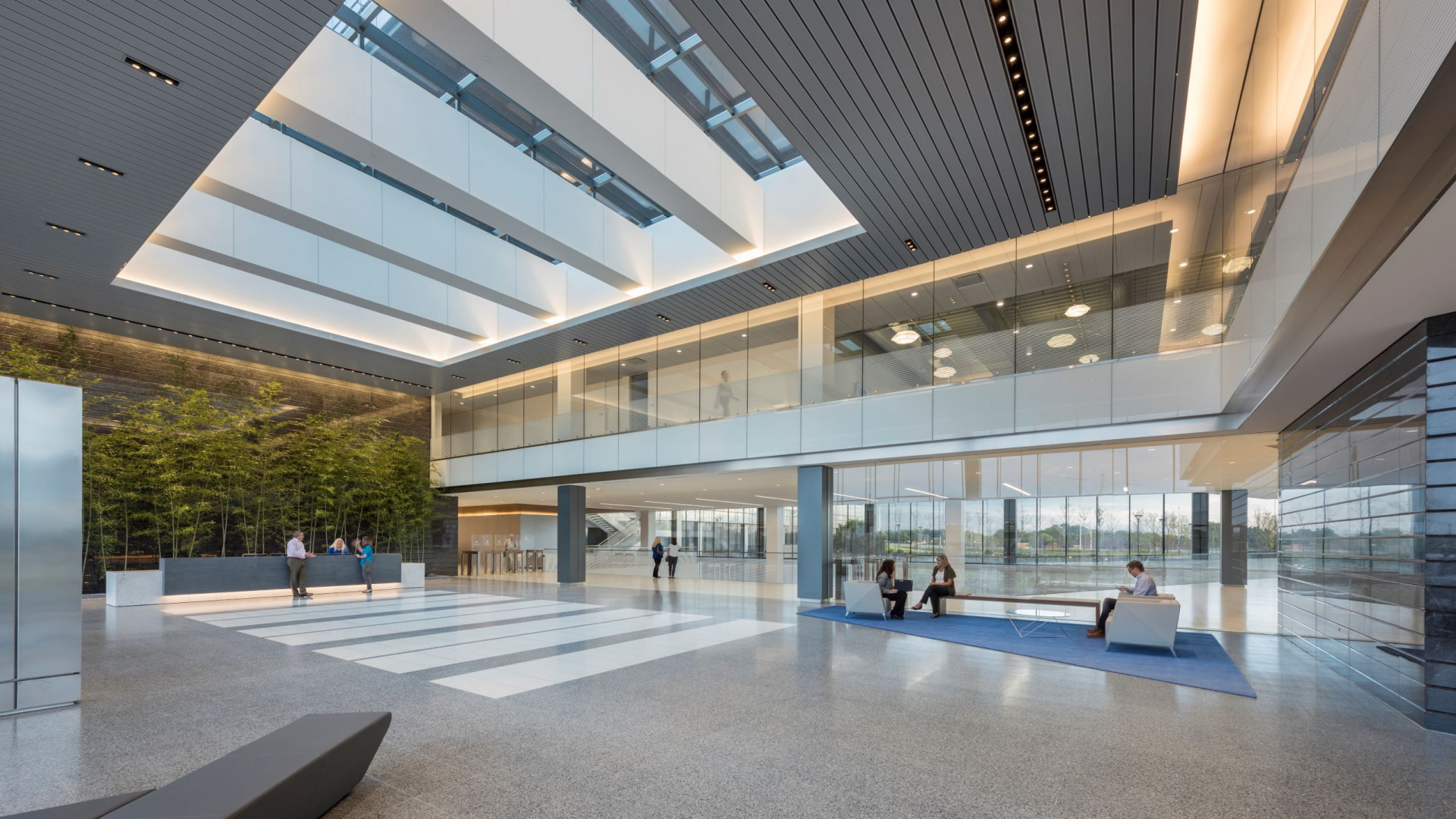 Goldray Glass developed the decorative glass panels used throughout the building's interior, including: glass stairway balustrades, mezzanine railings, wall cladding, and elevator surrounds.
Glass In Action
From the beginning, the company and design team aimed to achieve LEED Platinum status, a lofty goal that required careful planning and material selection. One of the criteria for achieving a LEED designation is great access to daylight. To maximize natural light, the team incorporated glass on both the exterior façade and throughout the interior, bringing light deeper into the office space.
Goldray's decorative glass was used to create the open, airy atmosphere envisioned by Goettsch Partners. The panes of decorative glass all feature a delicate horizontal line pattern created using Goldray's silkscreened ceramic frit process. The striped decorative glass is used throughout: on the building's glass railings, on the elevator surroundings, as wall cladding, and along the mezzanine perimeter of the lobby. To add a personal touch, our team used our advanced color matching process to match Zurich's royal blue corporate color, on glass. The backpainted glass panels were then silkscreened with the same horizontal line pattern to unify the design.
The completed project is a marvel of modern office design. "This building is a showcase of all we are at Zurich: its excellence in design, its focus on sustainability, and its reflection of our employees," boasts Zurich CEO Mike Foley. A sense of ownership and pride that is sure to last for years to come.
Our Team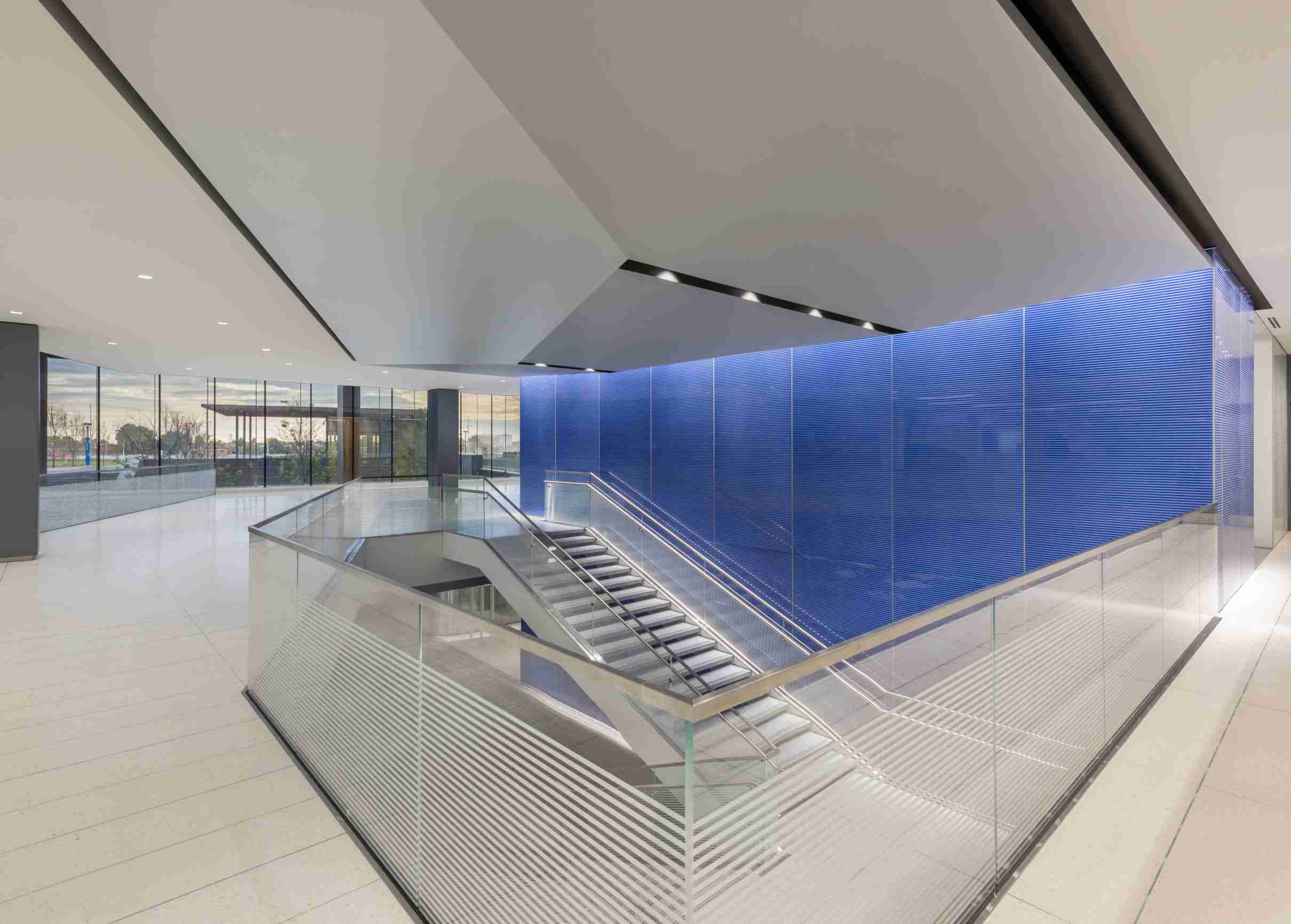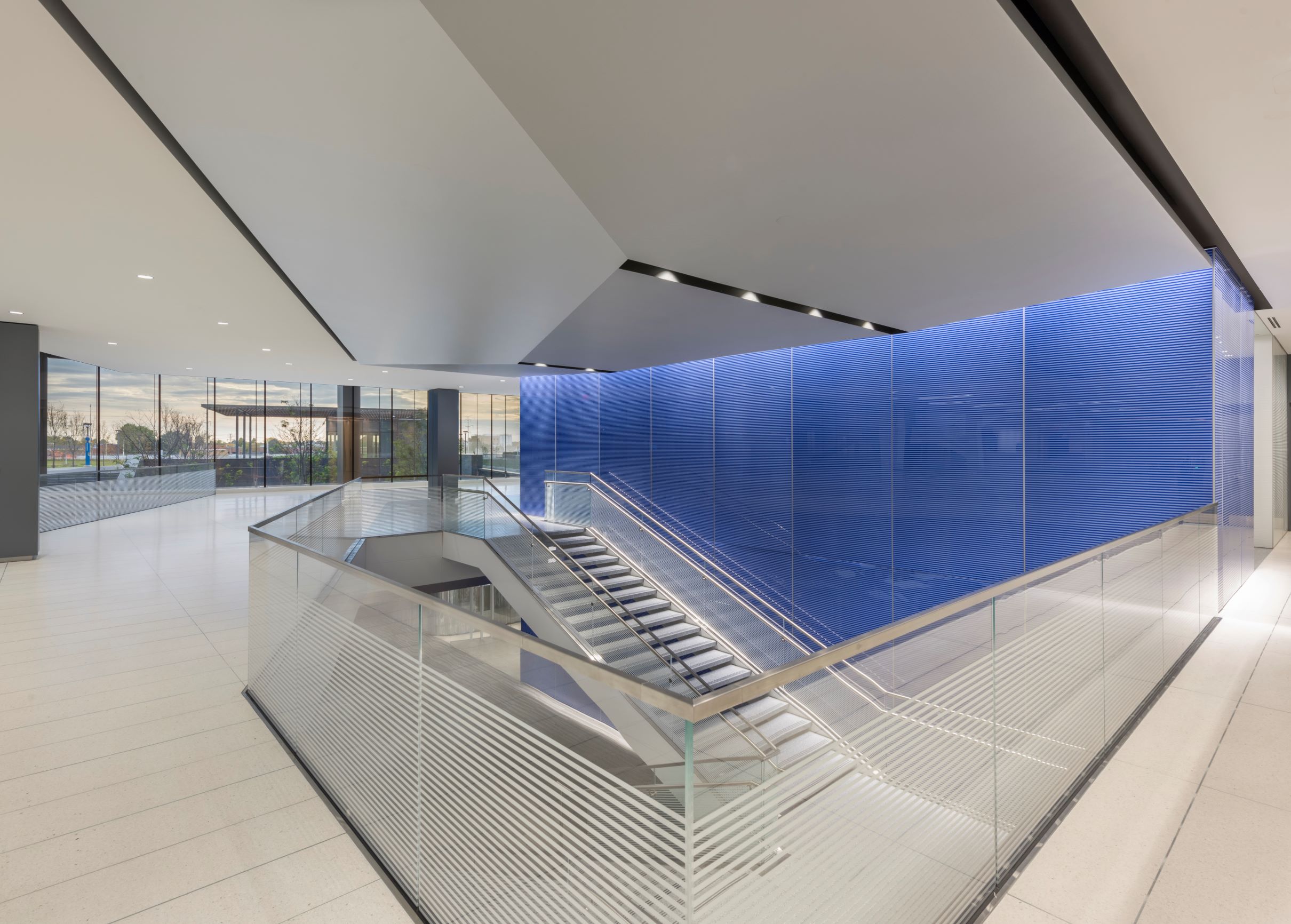 Architect
Goettsch Partners / Interior Designers: CannonDesign
Contractor
Ventana Design-Build Systems
Sales Rep
Craig MacGregor - MacGregor Architectural Products
Have a vision? — Not sure how to achieve it?
Let us help you bring that vision to life.