Trends Influencing Architecture in 2019
The architecture and designs of 2019 have shifted towards the needs of the future. With tiny off-the-grid homes and inclusive public spaces sparking inspiration across the globe, architecture continuously provides solutions to imminent issues such as global warming, lack of accessible design, and structures that move cities towards being greener as a collective. Challenging the status quo of design across the world, these are the top trends that have influenced architecture in 2019 – so far.
Tiny Houses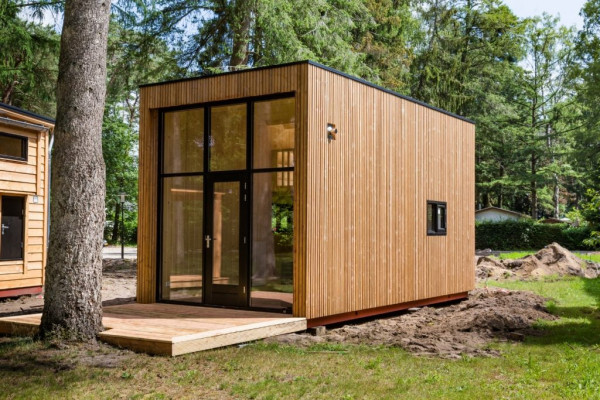 Tiny houses reduce the environmental impact of owners' homes by a significant margin. By utilizing fewer materials, a lower
"life cycle" cost, and increasing the potential for environmentally conscious materials, 2019 has seen the trend of tiny houses grow to become a full-fledged social movement around the globe. Categorized by homes that are between 100-400 square feet, tiny houses come in all shapes and sizes and enable simplified living in a more efficient space. As tiny homes continue to gain prominence, designers and architects have become increasingly involved in the development of innovative and practical solutions for these smaller spaces. Although the "tiny life" is only one answer to living in a more environmentally conscious way, they serve as an inspiration for greener buildings in every future structure.
"Simplicity is about subtracting the obvious and adding the meaningful"
John Maeda
As it's imperative for tiny homes to maximize every area of space, multipurpose rooms are a common feature in tiny house design. Incorporating multi-use materials, such as Goldray Glass QuickFrost™
(a switchable privacy glass that allows a glass lite to go from opaque privacy to non-privacy glass at the flick of a switch) is a great way to maintain an open concept and achieve optimal privacy when desired.
Inclusive Design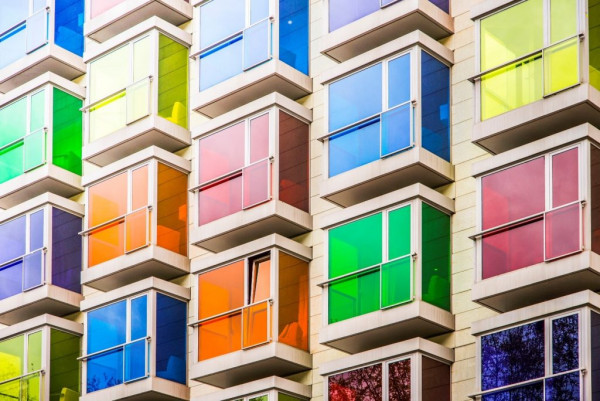 Inclusive design helps architects and designers create structures that serve as many people as possible. With accessibility as a core objective, inclusive designs enable communities with diverse characteristics to interact with design and architecture equally. It's important — especially when designing for billions of people — to create structures that embody an equal opportunity for participation from the diverse population.
In the case of people with visual impairments, textures and color selection, which must have a high level of contrast, are highly important when considering the inclusivity of structures. For individuals with reduced mobility, slip-resistant surfaces are also a critical aspect of inclusiveness, as they permit wheelchair movement or walking with a cane to become safer.
When considering inclusivity in architecture and design, incorporating Goldray's Traction Control Flooring can provide a highly functional surface, without sacrificing decorative appeal. Additionally, Goldray's Colored Interlayer or Backpainted Glass can be used for designs partition walls, doors, or wall cladding applications to denote different areas in the space. Goldray's Colored Interlayers can also create architectural glass canopies and decorative glass public art that provides the flexibility of color selection and degree of contrast required to invite individuals with visual impairments into any space.
Sustainability

The goal of sustainable building is to meet the needs of today, without compromising the needs of tomorrow. As buildings have a substantial impact on the wellbeing of the planet and its population, structures are continuously using fewer resources, reducing waste and attempting to mitigate negative environmental impacts. As architecture and design continue to move towards the goal of sustainability, infrastructure trends are consistently moving towards buildings that are as efficient as possible. Architects and designers are considering the environment, economy and the surrounding community when creating sustainable structures that will stand the test of time.
As a member of both the U.S. Green Building Council and the Canada Green Building Council, we are committed to providing products that will help to promote sustainability within the construction industry. We understand our obligations and take actions that will reduce our own environmental impact in both product development and internal functions.
Goldray creates products that are used in Leadership in Energy and Environmental Design (LEED) certified buildings. LEED standards—such as water conservation and utilizing environmentally friendly products (such as paint that is low in volatile organic compounds), help to create highly efficient and cost-saving green buildings.
One of the ways that we are making buildings more sustainable is through our Mosaic wall systems. Mosaic wall systems are factory built, and our pre-glazed designs eliminate all on-site construction waste and greatly reduce installation time, allowing you to focus on what's most important– creating a building that not only stands out but is sustainable.
To read more about Goldray's environmental stance, click here.