Breaking Boundaries with Color – Collaborating on T-Mobile's Signature Las Vegas Store
On the busy Las Vegas Strip, brands only get one chance to make a great first impression. When T-Mobile - the third largest wireless carrier in the United States - set out to design its first signature store in Showcase Mall on Las Vegas Boulevard, the brand knew it would have to think boldly to stand out. Partnering with leading contractors and architectural firms from across North America, T-Mobile's vision of a new one-of-a-kind storefront was brought to life using one of the brand's most differentiating factors – its iconic magenta color.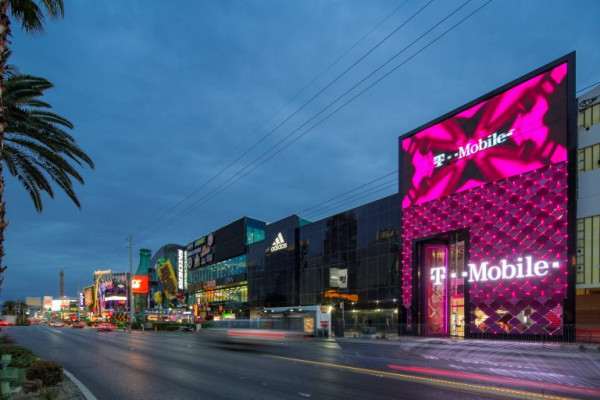 T-Mobile Flagship Store on Las Vegas Boulevard
Iconic Color Meets Innovative Design
Located less than a mile away from their namesake T-Mobile hockey arena, T-Mobile wanted to continue to deliver their unique customer-centric experience as the official "Un-Carrier" at their new Las Vegas signature store. With more than 70 million consumers purchasing the brand's wireless products and services, its distinct magenta brand is globally recognized – making it the perfect focal point in the store's design.
By combining the best of T-Mobile and the best of Las Vegas, the two-storey, 9,000 square foot retail space, which opened in early 2018, was transformed into a spectacular nightclub-themed setting. Fully-equipped with a virtual reality display, photo booth, juice bar and concierge desk, the new space delivers a distinctive hyper-sensory experience, with T-Mobile's magenta color playing a key role throughout.
Shared Success
The key to T-Mobile's unique storefront design was collaboration and partnership. According to FITCH, a leading brand consultancy and T-Mobile's chief brand team, Goldray was highly recommended due to our ability to deliver exact custom colors. Similar industry-leading companies, including general contractor and architectural firm, DC Building Group, and glazing contractor, Giroux Glass, were selected for their unique skill sets and pioneering spirits. Together, we worked to create the store's bold design, including custom steel, glass and terrazzo tile staircase.
Embracing the Challenge
Early in 2018, Goldray supplied all of the custom magenta glass needed for the building's interior signature staircase, as well as the building's exterior faux door. To create the precise color needed to match T-Mobile's high-energy magenta, our in-house design team overlaid four different Vanceva colored PVB interlayers between sheets of tempered glass. One of the key properties of PVB interlayers is UV resistance which will ensure no color fading – enabling T-Mobile's new storefront to leave a lasting impression for years to come.
The space's magenta glass staircase is lit with thousands of programmable LED lights, producing an unforgettable and visually stunning effect. A 32-foot faux door entry made of angled pieces of the magenta structural glass was also created to mimic that of an open door, inviting guests inside to explore and experience the state-of-the-art location.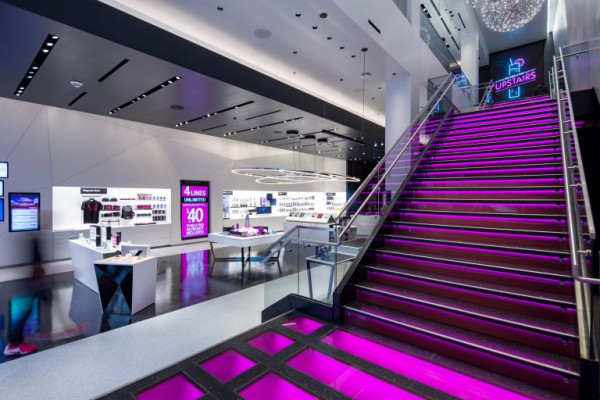 T-Mobile's Magenta Glass Staircase
Lasting Impressions
T-Mobile had never before created a store like this. Their highly visible signature store on the ritzy Las Vegas strip achieved their goal of immersing visitors in a brilliant, memorable and on-brand 'magenta' environment.
The complex and cutting-edge design was noticed not just by their customers, but also by professionals in the glass industry. T-Mobile's Vegas store was recognized with the 'Most Innovative Monumental Glass Entrance' in the 2018 Glass Magazine Awards. It was an absolute honour for us to be involved in this award-winning project.
We love partnering with like-minded organizations and creating impactful designs that push the envelope and take people's breath away – T-Mobile's new storefront is no exception. Get in touch or follow us on Facebook, Twitter and Instagram to see how we can design the industry's latest innovation together. We're looking forward to breaking boundaries with you.
One Vision, One Direction: It's Grow Time